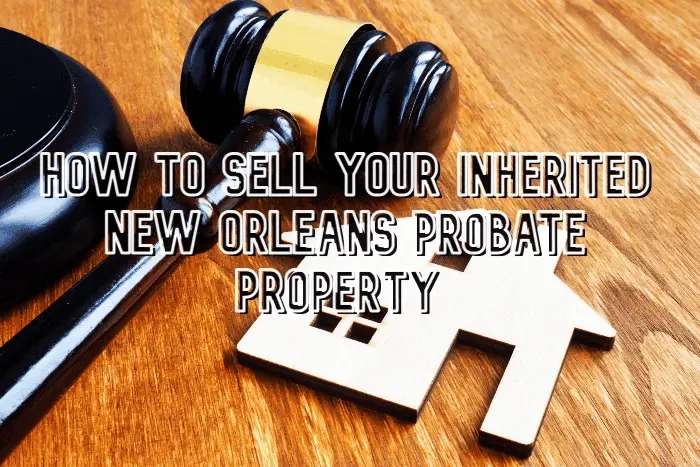 If you suddenly find yourself with an unwanted inherited property after a loved one's passing, your head is probably swirling with questions about the house and what to do with it.
Am I located too far away from the property? Can I put up with all the necessary paperwork that comes along with an inherited home? The answers to these kinds of questions come from understanding your options and what you need to do to sell an inherited house in probate.
It's easy to be overwhelmed by the long list of things that you must do as the executor to settle the estate. It's even more overwhelming still when you're already grieving over the recent loss of a loved one. At such a difficult and confusing time, you need to simplify things as much as possible and accept all the help you can get.
In this guide, we will break down the entire probate process with tips on what you need to do to sell your inherited property in New Orleans fast. Learn how NOLA Wholesale Properties can save you from the heartache, hassle, and expense of owning an inherited home, so you can settle the estate quickly and move on with your life.
What Is Probate?
First, let's start with a definition of the subject of this article. What exactly is probate? In simple terms, the term probate can be summarized as the settling of an estate and the selling of a property after someone has passed away.
Can You Sell An Inherited Property Before Probate?
No. Louisiana law requires any inherited estates to be judicially administered. Consequently, you must go before a judge before taking control ("possession") of the property.
The Succession (Probate) Process in Louisiana
Technically, the probate process has no time limit on when you can begin. Nevertheless, we recommend that you start as soon as possible after your loved one's passing. There are two reasons for this: 1.) The estate is effectively frozen until the succession process is completed; any debts owed by the deceased will remain unpaid and continue to build up interest. 2.) The heirs to the estate can't claim their inheritance until the process is finished and a judgment of possession has been issued.
The best way to get the succession process started after a loved one has died is by locating the following information:
The original Last Will & Testament, if one existed
The name of the executor named in the estate
A list of heirs
An accounting of assets
Debts owed by the deceased
Bills, bank statements, and receipts that arrive after death
If finding these documents is difficult, a lawyer or notary can help. Remember, the sooner you seek professional help, the easier (and faster) the process will be.
Preparing for a Probate Sale
1. The Mortgage
Start by seeing how much equity you have in the house, and how much is owed to the bank. This absolutely essential step determines which method you will use to sell if you want to sell fast.
Here are two of the most common scenarios for mortgage status of probates are. 1.) The house is "underwater," meaning you owe more than the house is worth. 2.) The mortgage is completely paid off, which means you have full equity of the house and own it free and clear.
2. Perform Home Inspections and Repairs on the Property
Know the home's condition and any repairs needed by getting it professionally inspected.
Buyers often avoid purchasing homes in bad shape. Selling to a cash home buyer eliminates this as a potential hurdle. With NOLA Wholesale Properties, we buy your property as-is!
3. Pay Off Taxes
Paying off any taxes owed can eliminate a significant hurdle preventing a probate sale. At NOLA Wholesale Properties, you don't have to worry about it. We'll buy your house whether it has tax problems or not.
Consider Selling to a Cash Buyer
If you have been asking yourself, "How can I sell inherited property in New Orleans fast for cash?", then you should consider selling your home to a cash buyer as a quick way to get rid of your unwanted inheritance for cash. Make money off the property quickly and avoid the hassle and cost of doing repairs with a probate sale to a cash buyer.
We Can Guide You Through the Entire Probate Process
Led by an experienced, state-commissioned civil law notary, our company has extensive experience handling probates. We can provide you with advice and guidance on the entirety of the probate process. Everything from taking possession of the property to navigating the required paperwork, to actually selling the property.
Probate can be a very expensive and lengthy process if you do not have experience in the area. We can take care of all the paperwork and headache involved. You'll save money and have peace of mind knowing that you can sell your home much faster!
You'll probably encounter some odd terms as you go through probate, like beneficiary, interstate, revocable trusts, and power of attorney. If you find yourself confused by this new vocabulary, have no worries! We will walk you through every step of the process via our extensive notarial expertise.
Sell Your New Orleans Inherited Home Fast – Contact Us Today!
Ready to sell your unwanted probate property, close out the estate, and move on with your life? Whether you have one heir or many, owe taxes or not, or are even underwater on your mortgage, we want to make a deal with you. We buy houses in any condition! Sell your New Orleans inherited house the fast and easy way. Contact NOLA Wholesale Properties now!